ABOUT PORNSAWAN HEAVEN SPA & BEAUTY
Pornsawan Heaven Spa & Beauty is a little gem in the heart of Bangkok. From the moment you walk through the door you realize
you are in a special place where the pace of life slows to its natural rhythm. Throw away the stresses of life as you slowly inhale and exhale the delicate scent of
natural oils and begin your unique spa experience.
We offer various kinds of massage treatments range from Traditional Thai to Hot Stone Therapy Massage.
We also offer beauty and hair salon services such as body wraps, facial massage, manicure & pedicure,
waxing, haircut, hair styles, hair treatments, highlights, coloring and more.
Located in prime area of Soi Rang Nam (Rangnam Road) 2 blocks away from the famous Baan Ajarn Thai Restaurant and right next to
Talan Bar and Pub. Five minutes walking from King Power Duty Free Rangnam.
OUR HILIGHT TREATMENTS
HOT STONE THERAPY Massage1500
Release Stress & Muscle Tension. Specifically designed to overcome stress and encourage relaxation. Heated Basalt stones are placed on key energy points, combined with aromatherapy warmed oil to relax and rebalance the mind and body.
BODY WRAPS600
Body wraps help your body balance itself by relieving muscle tension and promoting natural detoxification and hydration.
Skin Soothing Wrap
Smooth your skin with this vitamin & mineral rich herbal body mask. Help eliminating fatigue and to promote a youthful appearance.
Slimming & Firming Wrap
A specialized body treatment that combines a detoxifying wrap and advanced body massage to reduce water retention and slim the body leaving your skin smooth firm and refined.
Dead Sea Mud Wrap
Dead Sea mud is rich in mineral content. Its famously benefits are to relax muscles, ease pain and tighten skin's pores. When it dries, toxins that may be present in your skin cells are drawn out.
HERBAL OIL MASSAGE500
Ideal massage that applies a smooth, slow, and soft hand pressure movements along with warm herbal oil to lubricate the skin to reduce friction while performing a massage. Massage is performed in a private room with a bathroom inside. You are half-naked as you put on underwear/bikini that we provide. After you are done with massage you may take a shower afterward.
HERBAL SCRUB OIL MASSAGE700
Our signature full-body scrub treatment that is being loved and popular especially among female customers. Begin by applying our herbal scrub of your choice onto your skin and start scrubbing gently in order to get rid of dead skin cells to reveal younger, brighter skin. Followed by placing the oil onto the body and gives the massage by applying gentle hand pressure meant to softer your skin and relaxes muscles.
You are spoiled with choices of scrub to choose from. Be it Orange, Coffee, Chocolate, Rice Milk, Red Wine, Strawberry, Coconut, Almond, Blueberry and Apricot.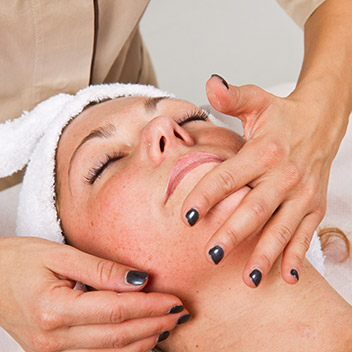 FACIAL MASSAGE350
A gentle, calming and effective facial treatment that includes cleansing, exfoliating, masking, moisturizing and a soothing face lifting massage. After treatment, skin appears healthy, lifted and absolutely revitalized.
WE USE ONLY HERBAL PRODUCTS
FROM STANDARD & PREMIUM BRANDS ONLY
TRADITIONAL THAI MASSAGE
A massage that combines gentle stretching, twisting and pressing. Our dedicated, experienced therapist will utilize parts of their body to massage your muscles, tendons and energy lines. Relaxed and stress-free afterward.
Start At250
FOOT MASSAGE
A soothing foot massage. Not only will your feet feel great, but the focus on pressure points will target areas throughout your body. Include head & shoulder and a bit of back massage.
Start At250
THAI MIX OIL MASSAGE
A combination between Thai and Oil massage. For most parts of it you will receive Traditional Thai treatment and in the end your back is massaged with herbal oil of your choice. A gentle stimulating with oil will relieve your tension and uplift your mind.
Start At350
HERBAL COMPRESS MASSAGE
An ancient Thai treatment using warm compress herbal ball filled with rich combination of powerful therapeutic and essential oils. A warm herbal ball is applied to the body in gentle pressing, circular and rolling movements. This massage is to create a feeling of physical relaxation and calm, while mentally uplifting and clearing the mind.
Start At700
HERBAL SCRUB MILKY OIL MASSAGE
Milky Oil is vitamin-rich natural oil that will turn to white liquid once combines with water. You get the same pleasure as normal Herbal Scrub Oil Massage but Milky Oil will help softens the skin, improves overall skin's texture and improves blood circulation. Highly recommend for lady who has dry, damaged skin.
Start At800
OUR FACILITIES
Our facilities consist of 6 foot massage chairs, 9 Thai massage beds, 5 oil/scrub massage beds, 2 bathrooms in 2 private treatment rooms, 3 private hair salon rooms, 2 restrooms and 6 waiting chairs for customer on first floor.
HAIR SALON & BEAUTY SERVICES
MANICURE
cuts, buffs and shapes nails
removes cuticles, removes current nail polish
applies new polish color (as per your request)
put lotion on your hands
Start At200
PEDICURE
cuts, buffs and shapes nails
removes cuticles, removes current nail polish
applies new polish color (as per your request)
put lotion on your feet, scrape heels
Start At200
MANICURE & PEDICURE
Start At300
WAXING
Half Leg, Full Leg
Half Arm, Full Arm
Underarm
Chest, Back
Bikini Lines
Start At300
SHAMPOO & BLOWDRY
Start At100
HAIRCUT
Men's Haircut
Ladies' Haircut
Start At150
STYLE
Bangs
Updo
Perms (Swartzkopf)
Straightening (Shisheido)
Brazilian Keratin Straightening (QOD)
Start At200
COLOR
Root Touch-Up (L'Oréal)
One Process Color (L'Oréal)
Partial highlights (L'Oréal)
Full highlights (L'Oréal)
Correction color
Start At800
TREATMENT
L'Oréal Hair Treatment
CHI Transformation System
Farouk Royal Treatment
Brazilian Blowout
Keratin Complex Smoothing
Start At400
HAIR EXTENSION
Start At8000
OUR GALLERY
Because of advanced technology nowadays, pictures that are seen in online and offline advertisement may as well be deceiving. But these pictures of our spa are true to themselves.
We have many special features to explore and enjoy. Each floor is exquisitely furnished with art, antiques and textiles. The 4 in house treatment floors, with private rooms and showers, private salon rooms and a state-of-the-art sound system were designed with your comfort in mind.
OUR EXPERTS
Just like any good restaurant, we truly believe that without a talented, dedicated, professional kitchen's staff it's nearly
impossible to produce a delicious food that make customers want to come back for more and more.
Likewise, at Pornsawan Heaven Spa & Beauty even though we're a family run business, we set our standard at highest level and pride
ourselves on that. Our team consists of staff whose are well-trained, experienced and most importantly, service minded.
They will ensure from the moment you step inside our place, your wishes will be granted and you will be treated like a special guest.
Here Are Some Of The Very Best That We Have.
PORNSAWAN(KHUN PORN)
HAIR STYLIST EXPERT
She chose this profession because she likes to make people feel their best and is able to do so by helping them achieve their best look. She loves to keep up with the ever changing hair industry. She is a talkative person and you wouldn't be bored when you're with her:)
JIRAPAT(KHUN AEW)
HAIR & BEAUTY EXPERT
Khun Aew has been a part of our team for over 4 years. Her philosophy is "Love what you're doing. There is nothing better than coming to work and having loyal clients for years and making them beautiful and catching up on each other's lives!"
SOMJAI(KHUN JAI)
MASTER OF MASSAGE DEPARTMENT
She has been practicing massage for over 15 years. Her wide knowledge of massages is second to none and she can perform all line of treatments with ease. A career in massage therapy seemed to be a natural transition.
NAMFON(KHUN FON)
SENIOR MASSAGE THERAPIST
Khun Fon brings with her over 10 years of massage therapy experience. She loves what she does, and is dedicated to helping clients in pain to get relief from muscle aches and tension. She is a bit shy and reticent kind of person though.
WHAT OUR CLIENTS SAY
I've been to this massage a half dozen times. Preferred language is Thai. English is fine. Relax and enjoy!
Nice service with sweet price. 🙂
たまたまホテル近くで見つけたこのお店、サイコーでした!若い男女の店主は英語も出来、笑顔もサイコーです。施術してくれる皆さんも笑顔の素敵な爽やかな若い女性ばかりでした。タイ古式やフットマッサージを2時間やっても300バーツと安いし、上手いし、本当に素晴らしかったです☆
I recommend this shop totally!! Thank you for wonderful massage every time!!
Best value in this area but good service as a hotel spa.
Very good service worth more than money. The customer care is very well
Fill up form below for appointment. All fields are required.